Fiji Airways Private A350 Experience
</p>
window.onload = function(){
$('a[href^="#"]').click(function () { $('html, body').animate({ scrollTop: $('[name="' + $.attr(this, 'href').substr(1) + '"]').offset().top }, 500);
return false; });
var btn = $('#scrolltopbutton');
$(window).scroll(function() { if ($(window).scrollTop() > 300) { btn.addClass('show'); } else { btn.removeClass('show'); } });
btn.on('click', function(e) { e.preventDefault(); $('html, body').animate({scrollTop:0}, '300'); });
};



A350 Business Class Experience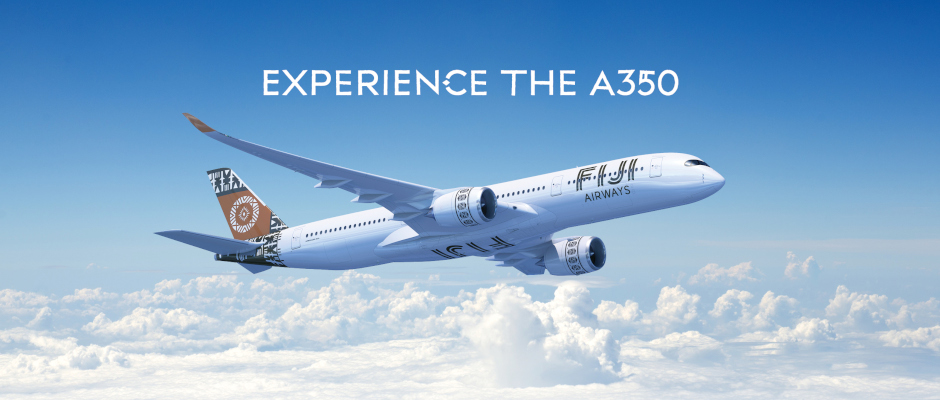 We are delighted to introduce the Airbus A350-900 into our fleet. The A350 XWB's Airspace by Airbus cabin is the quietest of any twin-aisle aircraft and offers passengers and crews the most modern in-flight products for the most comfortable flying experience. Not only does the aircraft provide the ultimate in luxury air travel to Fiji, it's also perfect for passengers taking long-haul connecting flights to other destinations.
A PREMIER EXPERIENCE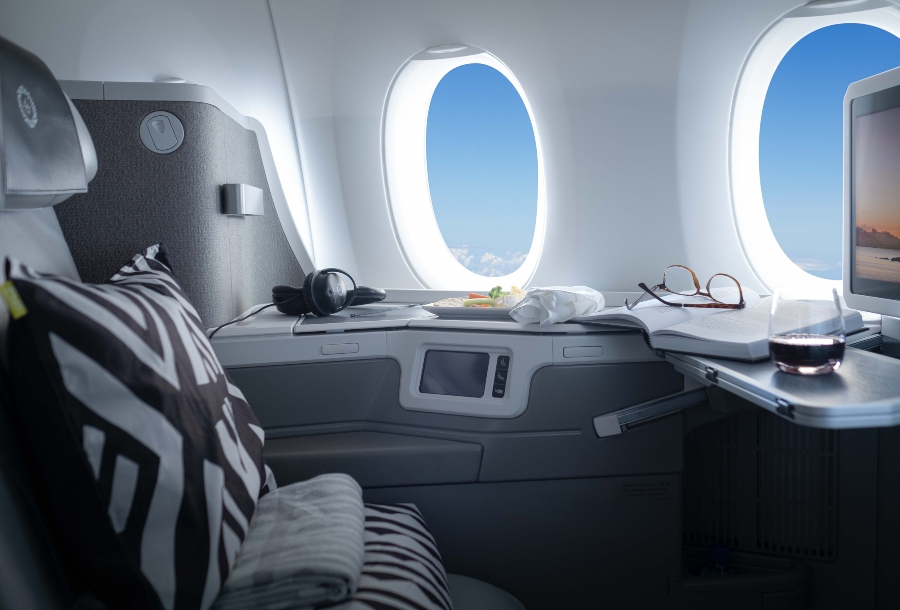 Our Business Class offers discerning travelers a unique and exclusive class of travel. On the ground, customers can enjoy dedicated check-in, increased baggage allowance, express airport lanes and access to lounge facilities at selected airports.
Fly in premium comfort in our luxurious leather Collins Aerospace Super Diamond, fully lie-flat seats. 1-2-1 seat configuration and direct aisle access, 17 inch personal entertainment screens. USB port, in-seat power and generous storage space. Pitch: 60-62 inch.
EXPERIENCE THE AIRBUS A350 BUSINESS CLASS IN 360º
Take a 360 tour of the Airbus A350 XWBs Business Class, Bula Space and Economy Class seating. Click on the video and drag the cursor to move around within the video to explore every angle.
BUSINESS CLASS SEATING PLAN


This is the seating layout for the Airbus A350-900.
TECHNICAL INFORMATION
Passenger capacity: 334 (2 class)
Length: 66.89 m (219 feet 5 inches)
Wingspan: 64.75m (212 feet 5 inches)
Height: 17.08 m (56 feet 0 inches)
Engines: 2 x Rolls Royce Trent XWB 84
Maximum speed: 1098.97 kmh (682.86 mph, Mach 0.89)
Range: 16,100km (8,700 miles)